As Chargé d'Affaires at the US Embassy in Kabul, the Afghan capital, Ross Wilson recommended evacuating the embassy and heading to the international airport last August as Taliban forces approached the city.
Within 18 hours, the Americans destroyed sensitive equipment, locked up the chancellery and transferred 1,500 embassy staff to the airport. As they removed the American flag, they heard gunshots – likely from a nearby building – and were informed that Afghan President Ashraf Ghani had already left the country.
"The government had collapsed," Wilson, a 1973 Edina-West High School graduate, said at a virtual event last month hosted by the nonprofit Global Minnesota.
By the end of the month, Wilson had taken off on the last American flight leaving Afghanistan. As the security situation worsened during his final days as head of the diplomatic mission, Wilson and embassy staff helped evacuate more than 124,000 people as Taliban forces took control of the country.
"There's no place I would rather have been," Wilson told Sun Current as he reflected on his time as ambassador. "There was no greater or more important work in American diplomacy abroad during the period I served there."
Joining Wilson to speak at the virtual event was his wife, Margo Squire, who served in Afghanistan for much of the same time. Squire was a cultural affairs specialist, working to support 27 American cultural centers, called Lincoln Learning Centers, across Afghanistan.
During the Global Minnesota event, the two men recalled their experiences in the country and their thoughts on life for Afghans now under the new regime. Wilson was chairman of the board of Global Minnesota, a nonprofit organization that seeks to broaden understanding of the world, when he was asked to take on the role of ambassador to Afghanistan.
Last month, the nonprofit's board of directors nominated Wilson as president again, effective July 1.
"It was an honor for me to work with (Wilson)," Mark Ritchie, president of Global Minnesota, told Sun Current.
He added that he was grateful for "the lifelong dedication of our Foreign Service Officers, Ross and Margo. When asked…they respond, and they respond sometimes in the most dangerous situations. But that's what they are as foreign service officers.
Wilson has always had an interest in world affairs, which he credits in large part to his mother, who was a social studies professor at Bloomington.
While attending Edina High School, Wilson took a PA history class with a teacher who solidified his interest in American diplomacy, he said.
"The education I received there and the education I received in Edina, Minnesota are integral to who I am and… what I have been able to accomplish in my professional career. "
Wilson found world travel exciting, and by the time he was in college, Wilson decided he wanted to join the Foreign Service.
"I was lucky to be admitted," he said.
After earning a master's degree in national security strategy from the US National War College in 1995, Wilson went on to take on a variety of foreign service roles. This included serving as US Ambassador to Azerbaijan from 2000 to 2003, and a few years later to Turkey until 2008, as well as US Chargé d'Affaires to Turkey again in 2014 and to the Republic of Georgia from 2018 to 2019.
In late 2019, Wilson was invited by Secretary of State Mike Pompeo to serve as Ambassador to Afghanistan, as Wilson was retired at that time.
Wilson said he believed there were others more qualified. But "after a lot of soul-searching, I concluded that even if they should ask and get someone else, they were asking me. And it was my duty to serve.
He began his role at the United States Embassy in Kabul in January 2020.
Describing the atmosphere of Kabul, Wilson said street life was often bustling, snow-capped mountains surrounded the city and women could move around relatively freely, unlike in less populated parts of the country.
He also spoke about the security measures in place at the embassy, ​​which he said was the largest in the world. Personal protective equipment, such as helmets and body armor, was standard, and drills were often performed. The United States had an airship in the sky overlooking the city to provide visibility, he said.
Embassy officials took "security extremely seriously," Wilson said at the Global Minnesota event. But as the departure of US forces from the country drew closer, the security situation deteriorated.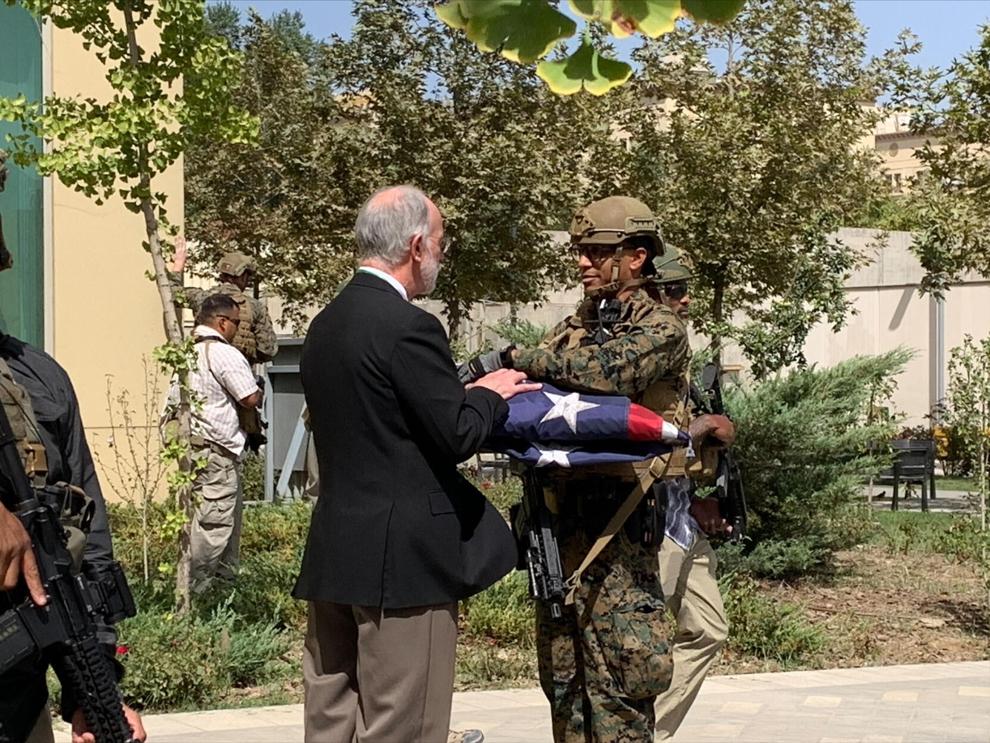 In February 2020, the United States signed the US-Taliban agreement, which included a commitment to withdraw remaining US military forces. The deal was aimed at getting the Taliban to ban attacks on the United States from Taliban-held territories and develop a peace plan to end the insurgency in the country, Wilson said.
Prior to the U.S. pullout, senior Afghan officials squabbled over many issues, including peace and security, as deadly Taliban attacks continued, Wilson said. Peace talks between Afghan and Taliban forces "quickly bogged down", he added.
The Trump administration has reduced the US military presence in the country, Wilson said. "These cuts and the way they were made undermined our influence and that of Afghans to shape any kind of acceptable compromise if, in fact, there could be one."
Then, in April last year, President Joe Biden announced his intention to withdraw all US military forces from the country by the end of the summer.
US officials have tried to reinvigorate peace talks and pressured Afghan leaders to rally their forces, also helping the Afghans develop a defense strategy. Internally, US leaders have accelerated the visa program, Wilson said.
But as the security situation grew increasingly uncertain in mid-August, as Afghan security posts were abandoned and Taliban fighters poured into Kabul province with plans to free Taliban prisoners, Wilson recommended to move embassy staff to the airport.
Wilson described a chaotic scene at the airport, including crowds of people outside the building. On two occasions, thousands of people were able to get on the tarmac, which suspended flight operations, he said. Explosions were frequent, Wilson recalls.
Every day there were hundreds of people asking for help to leave Afghanistan, Wilson said. Embassy staff expelled more than 124,000 people from the country, he added.
Wilson left at midnight August 30 – the last of the US forces in the country, marking the end of the war in Afghanistan.
Prior to leaving the country in July, Squire had spent her time working with her Cultural Centers, which aimed to empower young people, including women and girls, to help their communities take action on issues such as human rights. man and health, Squire told the Minnesota World Event. At these centers, Afghans could meet, chat and have access to computers and the internet, she said, adding that the centers also allowed the embassy to stay connected to different parts of the country.
Leaving the country, Squire said she was concerned for the welfare of those involved in cultural centers, including women and girls, who saw their rights curtailed under the previous Taliban rule.
But because of Afghans' greater access to resources over the past two decades, they are likely to continue to seek involvement in their communities despite Taliban rule, Squire said. "Seeds have definitely been planted," she said at the event.
Wilson pointed to a "lot of problems" the Taliban government now faces, including general hostility in the country, modernization of society and violence.
He added that he wondered what could have been done differently or better to change the outcome. Embassy officials "live with this and with thoughts of what we weren't able to do," he said at the event. He called the U.S.'s absence from the country in the 1990s a mistake, hoping there is still room for American engagement as it supports the investment it has made in the country.
"Whether it's assistance, direct support, or being on the ground and talking to people to better understand what's going on there, I hope these kinds of activities can continue." , Wilson said.
– Follow Caitlin Anderson on Twitter @EdinaSunCurrent